MEXICO APP STORE
Archeological Site Apps
Mexico Archeological Apps give you a walking tour of each site. Stay tuned. We will very soon have guides for the major archeological sites in Mexico.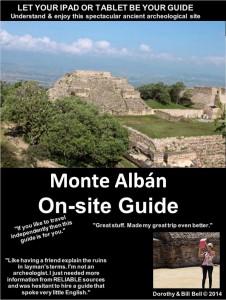 Monte Albán On-site Guide
Let Your IPAD or TABLET be Your Guide
Only $3.99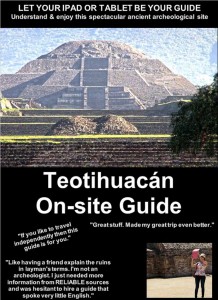 Teotihuacan On-site Guide
Let Your IPAD or TABLET be Your Guide
Only $3.99
ROAD LOGS
Road Logs assist drivers as they travel down the highways. They make sure you are going in the right direction and that you know what is coming ahead. They tell you how many lanes, whether there are shoulders or lateral lanes. You will know where to get your visas and permits, where the nearest gas stations are, which side of the street they are on and whether they carry diesel or not.
How about those topes and speed bumps. Got those covered too. Toll roads and costs. Turns and Twists. Military, police and agriculture check points.  Need a place to stop for snacks? OXXO stores are all marked.
And just to keep you amused there are interesting tidbits of information about the towns you will be driving by, trivia and a few jokes to keep you on your toes.
"Just like having a knowledgeable friend driving beside you." James Bradly Oregon City
"Wouldn't go anywhere in Mexico without one." Sarah Swift, Calgary Alberta
"Great for the new driver and still helpful for the experienced one. Even after 15 years on the road, I like to know when to anticipate the next gas station or stop." Gary Yandle, New York
"I like the commentary. Really funny and well thought out." Dorothy Bell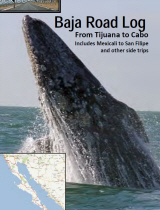 Mexico Road Logs – Baja California
Tijuana to Los Cabos Road Log and Driving Guide
Buy your Baja Road Log and Guide for $12.99
Click on the buy now button and you will be directed to a merchants page. Once you pay for the camping guide you will redirected to an easy to use download page where you will be able to receive your product immediately.
If you experience difficulties please write us for further instructions. Write bill@ontheroadin.com.
We try to respond within 24 hours but if we are traveling it may take up to 72 hours. DO NOT WORRY. Help is on the way!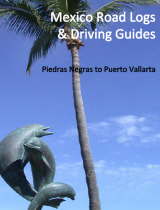 Mexico Road Logs – Eagle Pass / Piedras Negras to Puerto Vallarta
Via Monterrey, Zacatecas, Aguascalientes and Guadalajara
Price: $12.99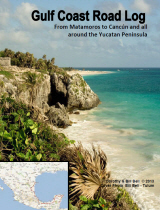 Mexico Road Logs – Gulf Coast to the Yucatan
Matamoros to Cancun & Around the Yucatan
Price: $8.99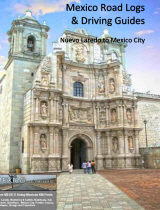 Mexico Road Logs – Laredo to Mexico City
Nuevo Laredo to DF via Monterrey, San Luis Potosi and Queretaro
Price: $9.99
Mexico Road Logs – Laredo to Puerto Vallarta
Nuevo Laredo to PV via Monterrey and Guadalajara
Price: $12.99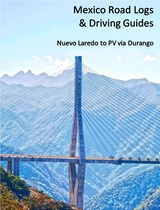 Mexico Road Logs – Laredo to Puerto Vallarta via Durango
New route crossing the Baluarte Bridge
Price: $5.99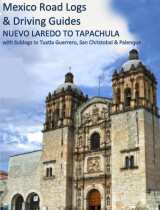 Mexico Road Logs – Laredo to Tapachula
With Side Logs to Tuxtla Gutierrez, San Cristobal and Palenque
Price: $14.99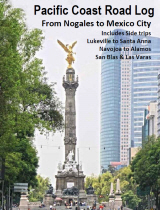 Mexico Road Logs – Nogales to Mexico City
Via North Pacific, Mazatlan, Tepic and Guadalajara – See Preview
Price: $12.99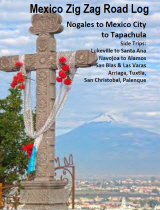 Mexico Road Logs – Nogales to Mexico City to Tapachula
Zig-Zag North-South with Various Side Logs, See Preview
Price: $14.99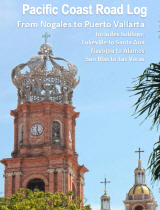 Mexico Road Logs – Nogales to Puerto Vallarta
Includes Three Sublogs
Price: $9.99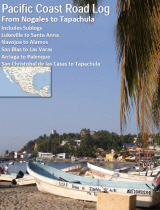 Mexico Road Logs: Pacific Coast – Lukeville & Nogales to Tapachula
From Lukeville & Nogales. Includes Five Sublogs
Price: $14.99