Atzompa "High Water Mark" or "At the Head Waters" (Nahuatl)
Atzompa lies on a hillside adjacent to the hill where Mighty Monte Alban overlooks the Oaxaca Valleys. The views from this sight are remarkable and one can see the city of Oaxaca and her municipalities from this location. The site has recently been excavated and archeological work continues to this day.
HISTORICAL NOTES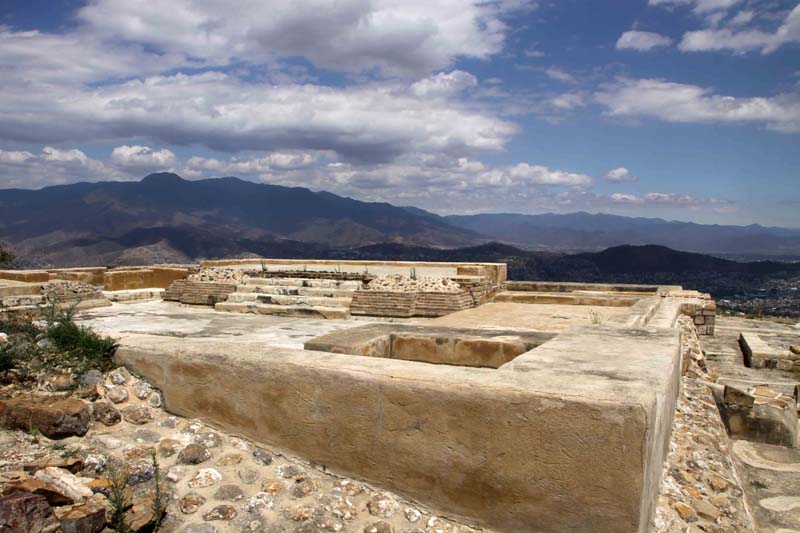 Unlike Monte Alban, Atzompa was less of a monumental center and more of a private exclusive family residence. Built during an expansive stage when Monte Alban was creating strategic satellite cities and settelments, Atzompa was a perfect location to create. Within sight of the Zapotec capital, Atzompa overlooks the valley and the lucrative trading routes and farmland in the valley below.
DATES
TIMELINE
200 AD  – Likely the settlement of a specific Zapotec lineage
650 to 850 AD – City as satellite of Monte Alban. Separate but related. Possibly created for some royal families or elite religious leaders
900 AD – Deserted
2012 – Opened to the public in November
Atzompa was built as a Zapotec satellite city from Monte Alban which was expanding rapidly at the time.  It was likely built as a lookout location over the Valley of Etla and the possibility of Mixtec encroachment. There is some evidence that it also produced some quarried stone for Monte Albans last phase of construction.
Like Monte Alban, objects excavated at the site indicate trade with Guatemala, Teotihuacan and communities as far north as Hidalgo.
LOCATION & DESCRIPTION
Geographic location
The Zapotec site of Atzompa is on a hilltop overlooking the present day city Oaxaca de Juárez on an adjacent hill to the
ancient Zapotec capital city of Monte Alban. The area is dry and deforested.
The city is terraced as it ascends the hill. Unlike Monte Alban that was build on flat man-made plazas, Atzompa is constructed around smaller intimate plazas as the paths lead upward.
MAP
Entrance
There is an entrance area that was not opened. There were washrooms located not far from this location. There are explanatory signs throughout the site.
Admission is free.
MAJOR GROUPINGS & STRUCTURE DESCRIPTIONS
Casa del Oriente
Casa del Oriente, the East House has both residential and service quarters. The residential area is well defined around a patio and constructed with care and quality materials. A thick stucco is applied over the stones. The home was likely inhabited by a privileged family.
The servants quarters are situated along a pathway and there was evidence of burning, earthenware and ceramics here.
The Ball Courts
There are three ball courts found thus far in Atzompa. All three are shaped in the Capital "I" design, have no hoops and are subteraneon. a feature on Monte Alban ball courts.
The largest is the largest in the Monte Alban empire – likely regional games were played here. It is 45 meters long and has well defined end zone areas. There are niches in the end walls and were likely a place that statues of Gods were placed when a game was played in their honor.
The subterranean field meant players looked up towards the city as if the city was in the sky. The audience would look down at the game from the edges of the court or on small hills and buildings away from the direct action.
Casa de los Alares
The Casa de los Altares is also a residence of an elite family. The sunken patio is surrounded by 18 rooms. It is made with cut stone and stucco.
Kiln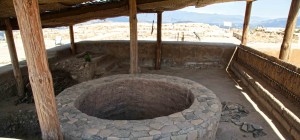 The kiln was used to make pottery for the area. The kiln is almost identical to those used in the town of Santa Maria Atzompa today – demonstrating the high degree of artisanship that has passed through generations.
HOURS
Open Daily from 8 am to 5 pm.
RECOMMENDATIONS
The ground is uneven and there is plenty of climbing so wear good shoes and clothes that are loose and will make walking easy.
The site is wide open and there is little shade. Wear a hat and apply sunscreen before you go.
There are no vendor or restaurants so bring water.
GETTING THERE
GPS – N 17.06.05 W096.46.4
Drive from Oaxaca:
Take the West Periferico around Oaxaca and follow signs to Monte Alban. Atzompa directional sign from the road up
or
From Highway 190 North Oaxaca, turn West on Technologico – go over a bridge and the name changes to Ignacio Bernal. Turn right on Ave Atzompa and drive straight. The name changes to Libertad.
Turn left before the gates to Santa Marie Atzompa, on Miguel Cabrera until it ends. Turn right on Independencia and drive up the hill. Continue pas various parking lots until you reach the main gate.
Take Highway 186 to Escárcega and then East to KM 146. Turn at signs. Take first left; then first right and then first left. to entrance. All well signed. Approximately 4 hours.