Chacchoben Mayan "The Place of Red Corn"
HISTORICAL NOTES
DATES
Timeline Graph
200 BC – first inhabitants lived in small villages near the water. Population grew.
700 AD – Cultural peak. Most of the construction of buildings and temples.
1942 – Mayan Serviliano Cohuo settles on property and raises family near the ruins.
1972 – Dr. Peter Harrison, American Archeologist, made the first exploration and maps and reported Chacchoben ruins to the Mexican Government after a fluke spotting of the site from a helicopter.
1978 – Serviliano Cohuo, was designated honorary guard of Chacchoben and was granted the right to stay at the site1994 – Chacchoben restoration project under INAH (National Institute of Anthropology and History) started. Complexes identified as Group I-A and Group I-B were excavated and restored.
2002 – Opened to the public.
LOCATION & DESCRIPTION
Geographic Location
Chacchoben is 165 KMs south of Tulum on the Yucatan Peninsula in Mexico. It is located in bush/jungle not far from the main highway 186, the north / south corridor from Cancun to Chetumal on the Caribbean coast.
Map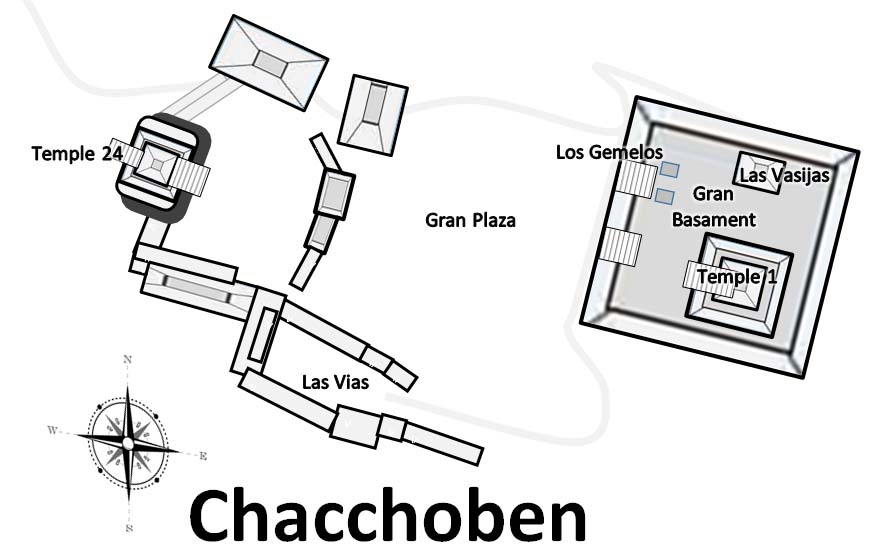 Entrance
MAJOR GROUPINGS & STRUCTURE DESCRIPTIONS
There is a circular path that leads you to the restored temples and other buildings. There is continued research in the site and you may see ongoing work.
Note that INAH has set up palapa to prevent erosion and degradation from the natural elements.
The surrounding area has an abundant wildlife such as armadillo, deer, gray fox, peccary and spider monkey.  Often you can hear howler monkeys at the site. Larger canines live deeper in the jungle
Edifice 24
Edifice 24 is a medium to large stepped pyramid with a central stairway leading to the top. There are three separate levels and the top level with the remains of a temple.
At the back of the temple you can see some of the original plaster.
Plaza B Las Vias
Gran Plaza
Gran Basamerete
Los gemelos
Las Vasijas
Temple 1
HOURS
Open Daily from 8 am to 5 pm.
Admission 2013 46 pesos. Free on Sundays for nationals and Mexican residents.
Allow at least 2 hours, especially if you like to climb and take pictures.
RECOMMENDATIONS
You can stroll safely undisturbed throughout the site – often you will be the only ones there.  Take good shoes as there is plenty of walking and climbing- and a fair amount memory and batteries for your photographs.
As this is site is in a somewhat remote jungle area, take water and insect repellant. There are no restaurants or food vendors.
Dress according to the season you are visiting.
GETTING THERE
GPS – N19.00.02 W88.13.57
Bus:
Take a bus to Limones or Pedro Santos and then a private Taxi to the site – approximately 200 pesos. Ask the taxi driver to return.
Tours
Tours and tour buses go frequently to Chacchoben and can be arranged on the internet. Often tour buses pick people up from the Costa Maya cruise terminal or Majahual.
Drive from Cancun:
Take Highway 307 and drive south past Tulum and Felipe Carrillo Puerto. Take the first right after KM 71 towards the ruins. Takes approximately 3.5 hours
Drive from Chetumal:
Take Highway 307 North to KM 170. Turn Left towards the ruins.