Dainzu, Oaxaca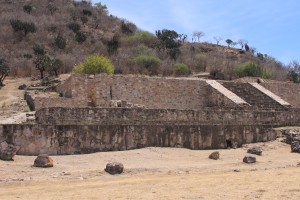 "Hill of the Cactus."
Zapotec "Danni/hill and zu/cactus
HISTORICAL NOTES
Dainzu was likely occupied people on small farms as early as 750 BC centuries before the mighty Monte Alban took control of the Oaxaca Valleys. Dainizu was a leader among the small communities in the Tlacolula Valley and along the Rio Salado.
When Monte Alban was being populated, people from the valley flocked to the hillside fortress city. Dainzu likely contributed the building and the populating of the great city as did other villiages in the area. Its population and import decreased around 200 BC.
Dainzu flourished and grew as the Monte Alban Empire grew. It reached its cultural and economic peak between 250 and 350 AD and declined nearly a century later with the demise and abandonment of Monte Alban.
DATES
Timeline Graph
750 to 500 BC Ceramics date the earliest occupation of Dainzu. One of the main villages of Tlacolula Valley.
500 BC to 250 AD – General decline in population as Monte Alban was built and rose to power.
250 BC to 350 AD Main Phase of Occupation. Secondary city in political terms.
1200 AD– Decline and abandoned at the same time as Monte Alban.
1965 – Escavated by Mexican Archeologist Ignacio Bernal
LOCATION & DESCRIPTION
Geographic Location
Dainzu is situated in the Valley of Oaxaca approximately 20 kms south of the Capital city Oaxaca. It is in the Tlacolula Valley.
Map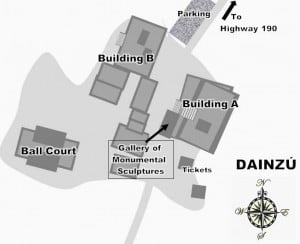 Entrance
There is no formal entrance gate or turnstile. You drive to the site and park. There are a few signs to your right.
Simply park your car and the caretaker will approach you with tickets.
MAJOR GROUPINGS & STRUCTURE DESCRIPTIONS
Building A
Building A is believed to be a public building used for religious purposes. It sits as the highest building on the site overlooking the buildings of this city and the valley below.
Built with stone and clay, four large platforms are built into an existing hill facing west. A broad stairwell leads to the top.
On the lower wall is a gallery of images carved in stone called the Gallery of Monumental Sculpture. The bas- relief images are believed to be ball players. All of the images are of different players and show the motion of the game. They hold the ball in their handsand wear protective gear.
There are also carvings of ballgame deities and priests making offerings. Some are of these are dated.
Building B
Building B is a very large complex structure; rooms, stairwells, patios, tombs. Six different constructions produced this compound and were completed at different times.  It is well constructed with water drainage in various areas.
There are a number of tombs but the most striking is Tomb 7 – sometimes referred to as the Tomb of the Jaguar – privately accessed through a stairway. It is decorated with the head of a jaguar on the entrance, the legs dangling down around the doorway.
The original two terraces are connected by the "Templo Amarillo ," dated from 200 to 600 AD.
Ball Court
The playing field is flanked with two walls inclining like steps upward. These steps were stuccoed and presumably the ball players used these sloping walls to bounce the rubber ball and rebound into a good scoring position.
Two different ballgames are represented in Dainzu. The reliefs show a game with players using gloves – catching, throwing and hitting the ball with their hands. The other game sometimes called "olomaliztli" is the classic game where players hit the ball with their hips. Padding was used much like todays football, on the knees and hips. Helmets and masks were also common. This was generally considered a later game played in I shaped courts.
HOURS
Open Daily from 8 am to 4 pm.
Admission 2014 36 pesos. Free on Sundays for nationals and Mexican residents.
Allow at least 1/2 to 1 hour
RECOMMENDATIONS
Likely you will be the only ones visiting this small site. It will likely take ½ to 1 hour to visit. Take water and any food you may want.
Good shoes with non-skid soles, hat, and sunscreen. Pack repellant during rainy season.
There are no restaurants or food vendors.
Dress according to the season you are visiting.
GETTING THERE
GPS – N17.00.13 W096.33.25
Tours
Tours and tour buses go to Dainzú from Oaxaca. Usually with a number of other sites.
Drive from Oaxaca:
Take Highway 190 towards Mitla and drive just past KM23. Turn right at Dainzu signs and drive 1.1 kms.
All well signed. Approximately 15 minutes.