Yugal, Oaxaca (Zapotec)
"Old Tree",
Zapotec ya/tree, gul/old
HISTORICAL NOTES
The soft rock of the Tlacolula Valley around the Yagul site provided many small caves and shelters. Five thousand year old findings indicate human settlement in the area. Just a kilometer from Yagul there are ancient petroglyphs and paintings attributed to hunter gatherer tribes dated to 3000 BC. Seeds and corn cobs indicate early plant domestication.
Yagul began as a settlement around 500 BC, Buildings began to develop around 500 AD. The city began to prosper after the decline of Monte Alban around 800 AD and reached its Zenith in 1200's.
After the Spanish Conquest, the population was moved to Tlacolula a nearby town.
DATES
500 BC – Settled by Zapotec and developed into an urban center.
500 -700 AD – Massive building. Beginning of Civic, ceremonial and residential structures. Ball court construction.
800 – Flourished after the abandonment of Monte Alban
1250 to 1521 – Capital of a city state with a population of 6000 people.
1550's – The population was moved to the town of Tlacolula after the Spanish Conquest.
1950 – Excavated by archaeologists Ignacio Bernal and John Paddock.
1998 – Declared a Natural Monument
2010 UNESCO World Heritage Site
LOCATION & DESCRIPTION
Geographic Location
Yagul is located approximately 36 kms south of the Capital City of Oaxaca.
The ancient city occupies one of a series of outcroppings on a volcanic ridge on the north side of the Tlacolula Valley near the Salado River.
The city is protected by natural and manmade barriers; the cliffs and walls. There are many excellent vantage points to the whole of the Tlacolula Valley below.
Map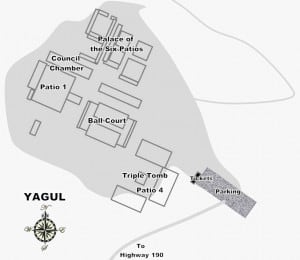 Entrance
After leaving Highway 190 you drive approximately 1.5 kms to the parking lot. There is no fee for parking. You then approach a small entrance hut where you pay your fees.
MAJOR GROUPINGS & STRUCTURE DESCRIPTIONS
The early planners of the city were ingenious. The Fortress overlooks the city with the two broad plazas – occupied by the ruling class of nobility and priests. The highest level is the administrative and political level.  Just slightly below that level, you can see ceremonial and religious buildings such as temples and the ball court. The commoners' level was further down the hill often next to the crops.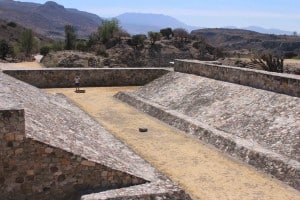 The Ball Court is the largest in the Oaxaca Valley and is 47 meters long and 6 meters wide. It is the second largest in Mesoamerica only to the Grand Ball Court in Chichen Itza.
Shaped in the classic "I" it has an east west orientation and has no inverted ring or hoops. Build between 500 and 700 AD and then remodeled in 700 to 900 AD. A serpents head was embedded on the southern wall – now relocated to the Museum of the Santo Domingo Cultural Centre in Oaxaca.
HOURS
Open Daily from 8 am to 5 pm. There is a watchman at the gate who will charge you the standard fee & extra for video cameras.
Admission 2014 43 pesos. Free on Sundays for nationals and Mexican residents.
Allow at least 1 to 2 hours, especially if you are going to hike up the hill
RECOMMENDATIONS
You can stroll safely undisturbed throughout the site – likely there will only be a few other visitors. Take good walking shoes with non-skid soles as there is plenty of climbing and a fair amount memory and batteries for your photographs as there is nowhere to purchase extras if you run out.
As this is site is in a somewhat remote area, take water and insect repellant. Wear a hat and take sunscreen. There are no restaurants or food vendors.
Dress according to the season you are visiting.
GETTING THERE
GPS – N15.57.30 W096.45.28
Bus
There are no buses directly to Yagul. You can ask to be let off and walk the 1.1 Km road. It takes approximately 30 minutes.
Tours
Tours and tour buses go to Mitla and sometimes make a combination package of sites along Highway 190.
Drive from Oaxaca:
Take Highway 190 South of Oaxaca and drive towards Mitla until you reach km . Turn to your left and drive an additional 1.5 kms to the site.